Thank you for coming and supporting Newport Illuminated Carnival in 2023… our 2024 Illuminated Carnival date is Thursday 22nd August.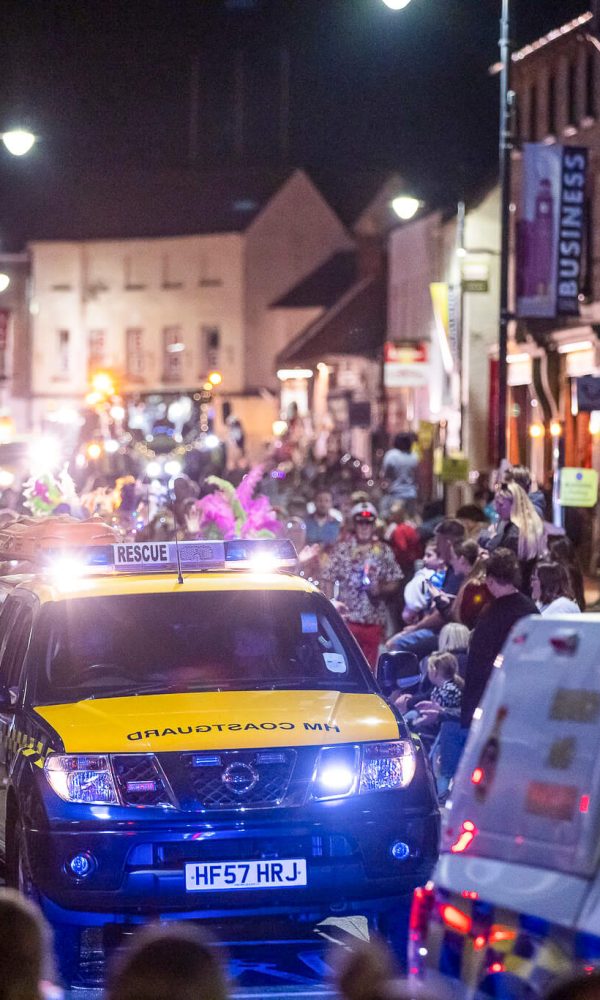 Come along and support Newport Carnival at our Illuminated Carnival Procession on Thursday 24th August 2023.
In 2022, Newport Carnival celebrated their centenary year with the biggest carnival Newport has seen 'since the 80's' – as remarked by many. 
The team are working tirelessly behind the scenes to put on a spectacular display once again – we are inviting anyone who wishes to take part, to do so!
If you only attend one carnival this year, you best make sure Newport Illuminated is the one! 
Last year we said there will not be one this big again… however, we can certainly try!
See you all on Thursday 24th August – We suggest you arrive by 20:30 and find somewhere along the route to watch this procession.
We anticipate that the carnival will prove popular so finding a good vantage point is wise.
South Street and High Street are genuinely popular, however, further out along Trafalgar Road and the Mall can be a little quieter.
Quiet Zones – there will be quiet zones between Nodehill and New Street
Viewing Platform – there will be a raised viewing platform in Orchard Street Car Park. 
See poster below for more details. 
What to expect at Newport Illuminated Carnival 2023…
As you may know, our main carnival procession in July was cancelled due to extremely poor weather, so we are tying to go all out for our Illuminated procession on Thursday 24Th August 2023.
For the first time ever, Shademakers UK will be joining us for a night time parade, Shademakers, due to their costumes being unlit, have only ever taken part in evening carnivals where their amazing costumes can be admired. The Newport Carnival team have been working with Shademakers in coming to a solution in which they can still preform at Newport.
Usually, Shademakers would follow up the rear of the carnival, however, we have them placed at the front to catch the dusk light, as well as their HGV provided by Rob Kingswell being fitted with flood lighting to illuminate the group.
We hope this, along with the towns street lighting, you will be able to enjoy them just as much as you would on any day-time procession.
Also, except for Ventnor's main carnival, Ventnor Comic Jazz Band would only preform on a Saturday. However, they were very keen when we asked them to make an exception to come and join us for our Illuminated.
The Ventnor Comic Jazz Band will be joining other bands from around the Island including Medina Marching Band; Vectis Corps of Drums Marching Band; Island Highland Pipes & Drums; FAT Samba and Raw Samba.
Medina Marching Band, Vectis Corps of Drums Marching Band and Island Highland Pipes & Drums is going to be playing Highland Cathedral together at approximately 20:50, 10 minutes before the parade sets off.
This is in honour of those we have lost this year, especially June Winchcombe, our former life-long chair of over 20 years, who sadly passed away earlier this year.
There will also be the Island Carnival's Royalty floats attending from Ryde, Sandown, Shanklin, Ventnor and St Helens; Vintage & Modern Vehicles; Local Groups & Schools; Tractors; Dance Acts and Groups; Shademakers; the Island's bands as mentioned above; and so much more!
The route will be…
Depart from Church Litten at 9pm, left into South Street where there will be a raised disabled platform in Orchard Street car park,
left into Upper St James' Street, right into Trafalgar Road where between Nodehill and New Street will be a 'Quiet Zone',
right into Carisbrooke Road (The Mall), continue down Newport High Street, left into Quay Street, left into Sea Street, right into The Quay to finish.
The Quiet Zone
There will be a 'quiet zone' on Trafalgar Road between Nodehill and New Street where music will be turned down and bands will play quieter.
This will be sign-posted with pink flags.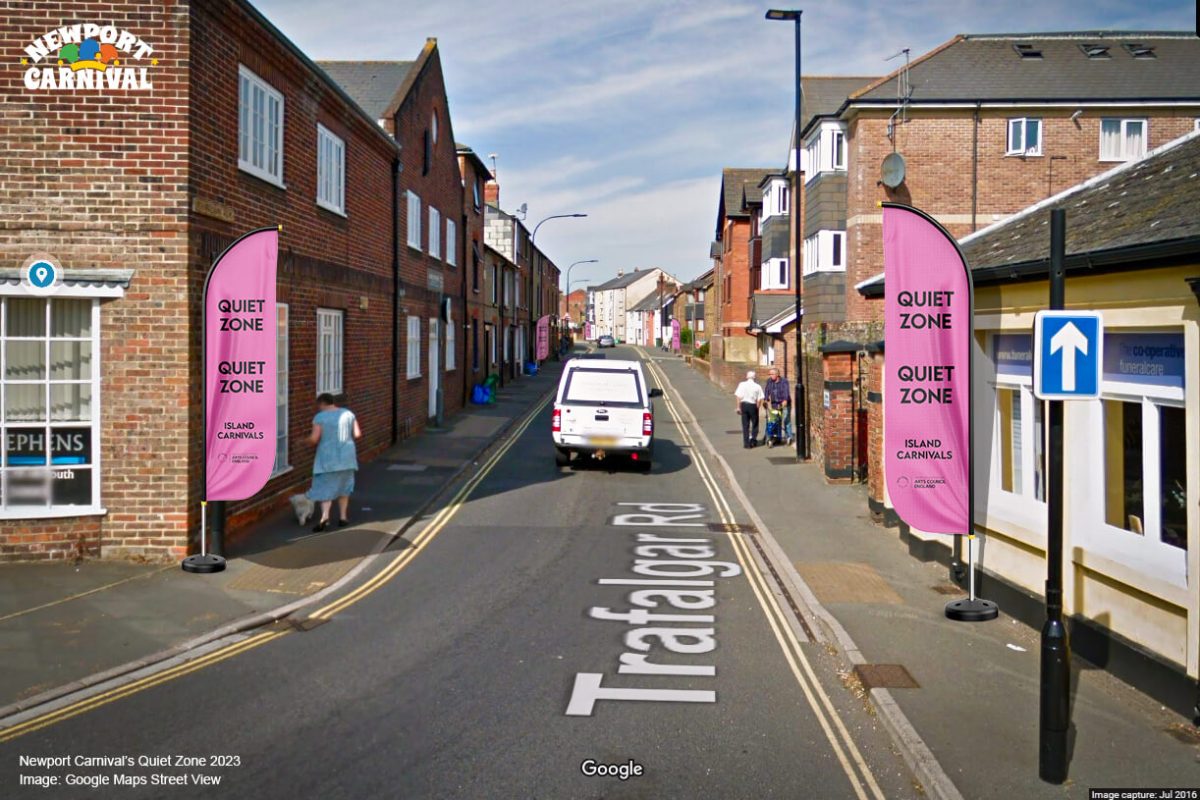 Raised Disabled Viewing Platform
There will be a raised disabled viewing platform right at the start of the carnival in Orchard Street Car Park this year overlooking South Street.
This will be available on a first come, first served basis so make sure you arrive early if you can.
Once the platform is full, there will be nobody else aloud onto it.
Come and take part!
Anyone can come and take part in our 101th year carnival, simply email us at or send us a message on Facebook.
All the money raised on the night will go towards future events under the Newport Carnival & Community Events Association.
In loving memory of life-long chair of Newport Carnival of 20 years, June Winchcombe, who sadly passed away earlier this year.
Church Litten, South Street & Town Lane
You will be told in advance where to form up. 
You Must Register!
You can register your entry at the traffic lights at the bottom of Church Litten that meets South Street.
The Procession Departs Church Litten, South Street & Town Lane
The procession cascades its way around Newport before ending at The Quay.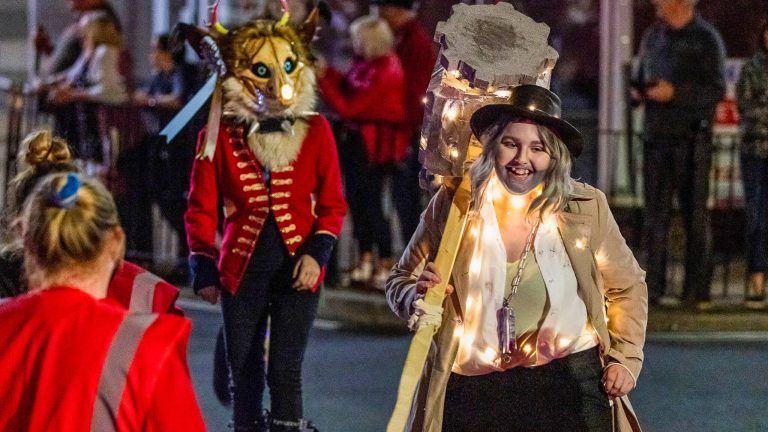 Take Part in Newport Carnival!
Newport Carnival welcomes all entries that wish to take part in their annual carnival processions. 
Whether you wish to enter a vehicle, float, push along trolly, a group of people or a singular entry, we would like to hear from you. 
Throwback to Newport Carnival 2022
In 2022, Newport Carnival put on a spectacular display for its centenary year with Newport's biggest carnival in 40 years. 
Celebrating 100 years of Newport Carnival, the organisers did not disappoint with many sleepless nights ensuring the day was a success. 
Watch our Illuminated Carnival Procession here! 
There is also a video of our Main Procession on the Main Procession page.