It's the second WOW of the carnival season...
What an incredible turn out to our 100th birthday Illuminated carnival celebrations in Newport! 
Thank you to each and every one of you who participated, observed and donated to the carnival. 
We are so glad to have been able to put on another spectacular carnival. 
Watch below Newport Illuminated Carnival 2022 filmed by Newport Carnival. 
Celebrate Newport Carnival's 100th birthday at our Illuminated Carnival Procession on Thursday 25th August 2022.
There will be a vehicle-only parade which will be setting off from South Street shortly before the main procession, which starts at 21:00.
Newport Main Carnival was the biggest carnival Newport has seen in around 40 years, let's see if we can top that at our Illuminated!
The team are working tirelessly behind the scenes to put on a spectacular display – we are inviting anyone who wishes to take part, to do so!
If you only attend one carnival this year, you best make sure Newport Illuminated is the one! There will not be one this big again… well, we don't think anyway!
See you all on Thursday 25th August – We suggest you arrive by 20:30 and find somewhere along the route to watch this procession.
We anticipate that the carnival will prove popular so finding a good vantage point is wise.
South Street and High Street are genuinely popular, however, further out along Trafalgar Road and the Mall can be a little quieter.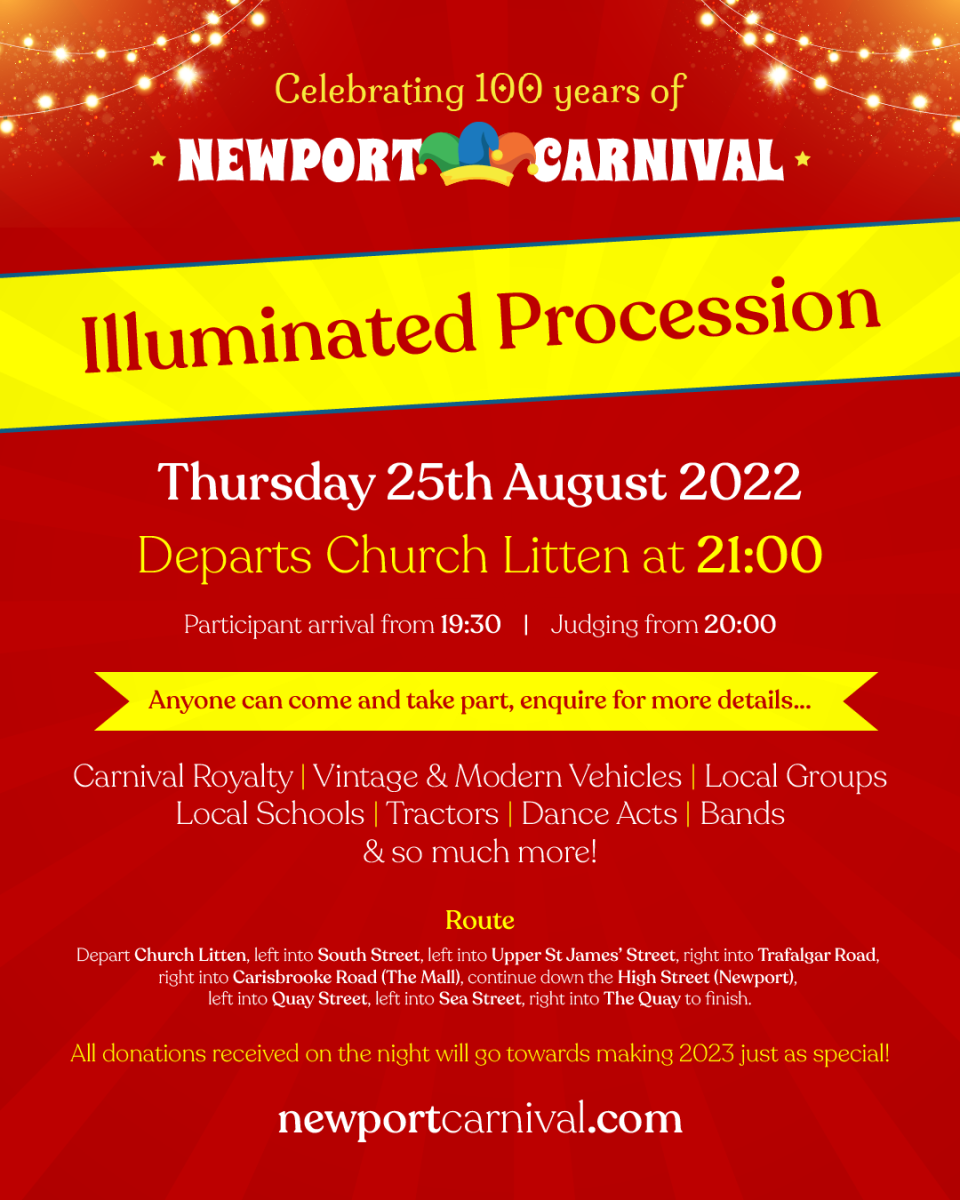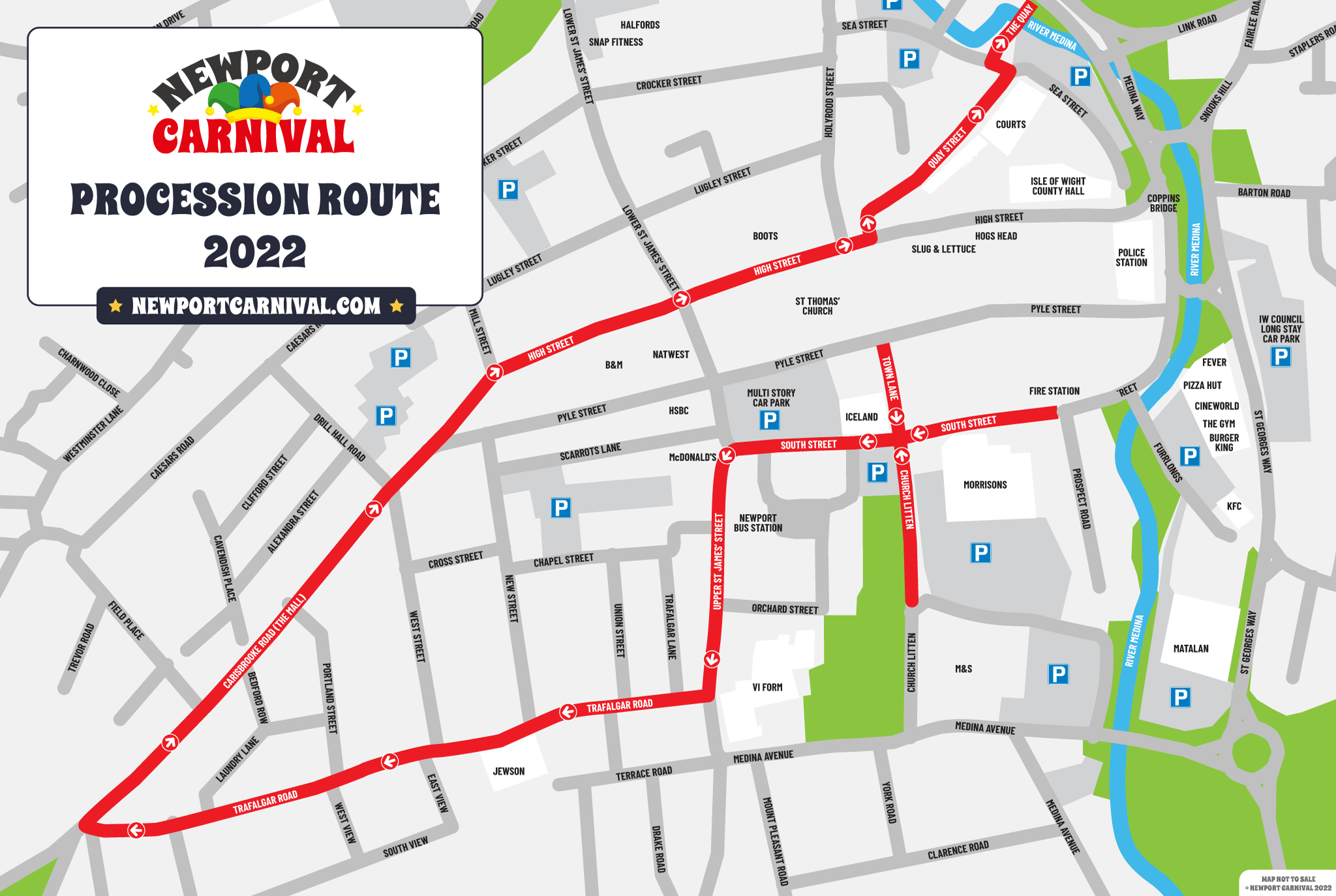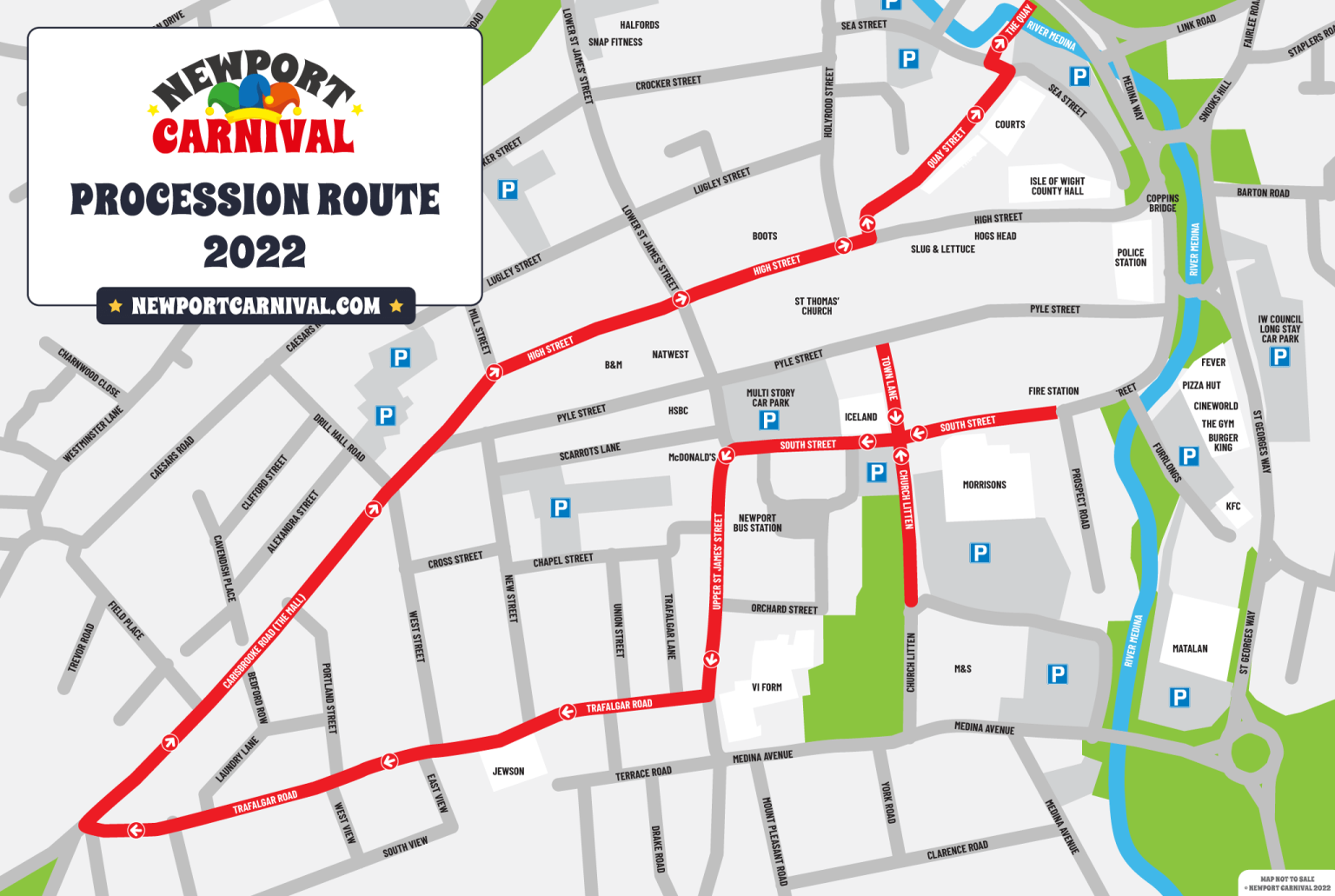 Newport Carnival's Illuminated Procession will take place on Thursday 25th August 2022 departing at 21:00.
Assembly
Form Up Location: Church Litten (Queens & Floats) / South Street for Vehicle Entries / Town Lane for any other Vehicles
Form Up Time: 19:30
(Please do not arrive before this time as Church Litten does not close until 19:30 and you will be sent away if you are early).
Judging
Judging Location: Church Litten
Judging Time: 20:00
You must register in the Newport Parish Centre on Town Lane
Procession Starts
Departure Location: Leaves Church Litten/South Street/Town Lane
Departure Time: 21:00
Procession Route
Please note this route is subject to change due to our 100th anniversary. 
Start at Church Litten
Left into South Street
Left into Upper St James' Street 
Right into Trafalgar Road
Right into Carisbrooke Road (The Mall)
Continue into the High Street
Left into Quay Street
Finish at The Quay

Taking Part
If you wish to take part in either or both of this year's carnival processions, then please get involved!